Posted by

Mahendra blog
Saturday, November 27, 2010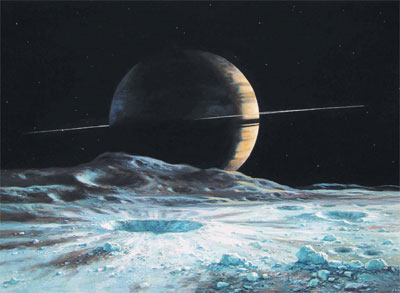 Rhea, False One Month on Planet Saturn Allegedly Has Strong Oxygen

Earth is not the only place in the Solar System that has oxygen. Rhea, a satellite of Saturn was rich in oxygen. Saturn is the second largest planet in the Milky Way, after Jupiter. This gas giant has a 62 month, with Titan as the largest satellite.

The plane owned by U.S. space agency NASA, Cassini, passing near the orbit of Rhea March. Drone discovers the cold months have an atmosphere that contains oxygen.



This is the third place outside of Earth who have oxygen. Two of Jupiter's moon, Europa and Ganymede, are also rich in oxygen. Both the two satellites it and Rhea are both covered in ice.

This makes the researchers conclude that the satellite ice while containing oxygen. "The fact that more and more finding a place oxygenated very encouraging," says Ben Teolis, Chief Penelii Southwest Research Institute told Space.com.

From the previous findings on Jupiter, the oxygen comes from the ice. "From the ice, broke so the hydrogen and oxygen," he said. Teolis suspect the same process occurs at Saturn.

The entire surface of the ice-covered Rhea with diameters of 1529 kilometers. From his observations at an altitude of 502 kilometers from the surface, Cassini found that 70 percent of Rhea's atmosphere consists of oxygen and the remainder carbon dioxide. However, oxygen levels are too low, five trillion times lower than on Earth.

Cassini is scheduled to return to Rhea January. This time will be closer to the surface, which is 75 kilometers above the moon's south pole.
Arkeology
Welcome My Blog.
Hopefully
my blog
useful
for you
all
.
And
I hope
you
enjoy
my
blog
.
If there is a
shortage
on
my
blog
,
I apologize
profusely
.
Happy
to read
my article
. And follow my blog please!!


About Me
I am not so fat and not so small. I am very cute. My school in SMP 1 Jepara. I like Arkeolog.I want to be archaeologists. I have a pet cat named chicko. She is my female cat with my faithful friends. chicko died in 2009. Although chicko already died, chicko remain in my heart.
View my complete profile

Chat With Me...